By Meg Whalen
The KEEPING WATCH on WATER project, with guest curator June Lambla, commissioned four artists to create work to explore and celebrate Charlotte's creek system. On view through Aug. 20 at the Projective Eye Gallery at UNC Charlotte Center City, the exhibition of their work explores Mecklenburg County waterways in diverse artistic media and from a range of perspectives – geographic, scientific, aesthetic, and spiritual.
Nancy Pierce
Photojournalist Nancy Pierce became interested in Charlotte's waterways soon after she moved to Charlotte more than two decades ago.
"The creeks were treated like irritants, conduits for trash and pollutants," she says. She later led an initiative in her neighborhood, Merry Oaks, to provide public access to Briar Creek, restore a floodplain, and create a trail and footbridge.
"I began photographing the creeks in Charlotte about 15 years ago, and because of my love for water, I found myself personifying the creeks as if they were humans that were being mistreated," she says. "In 2014, I was invited to take photographs for the City of Creeks project. With hip waders and waterproof camera bags, I explored Irwin, Stewart, Briar, Little Sugar, and Sugar creeks."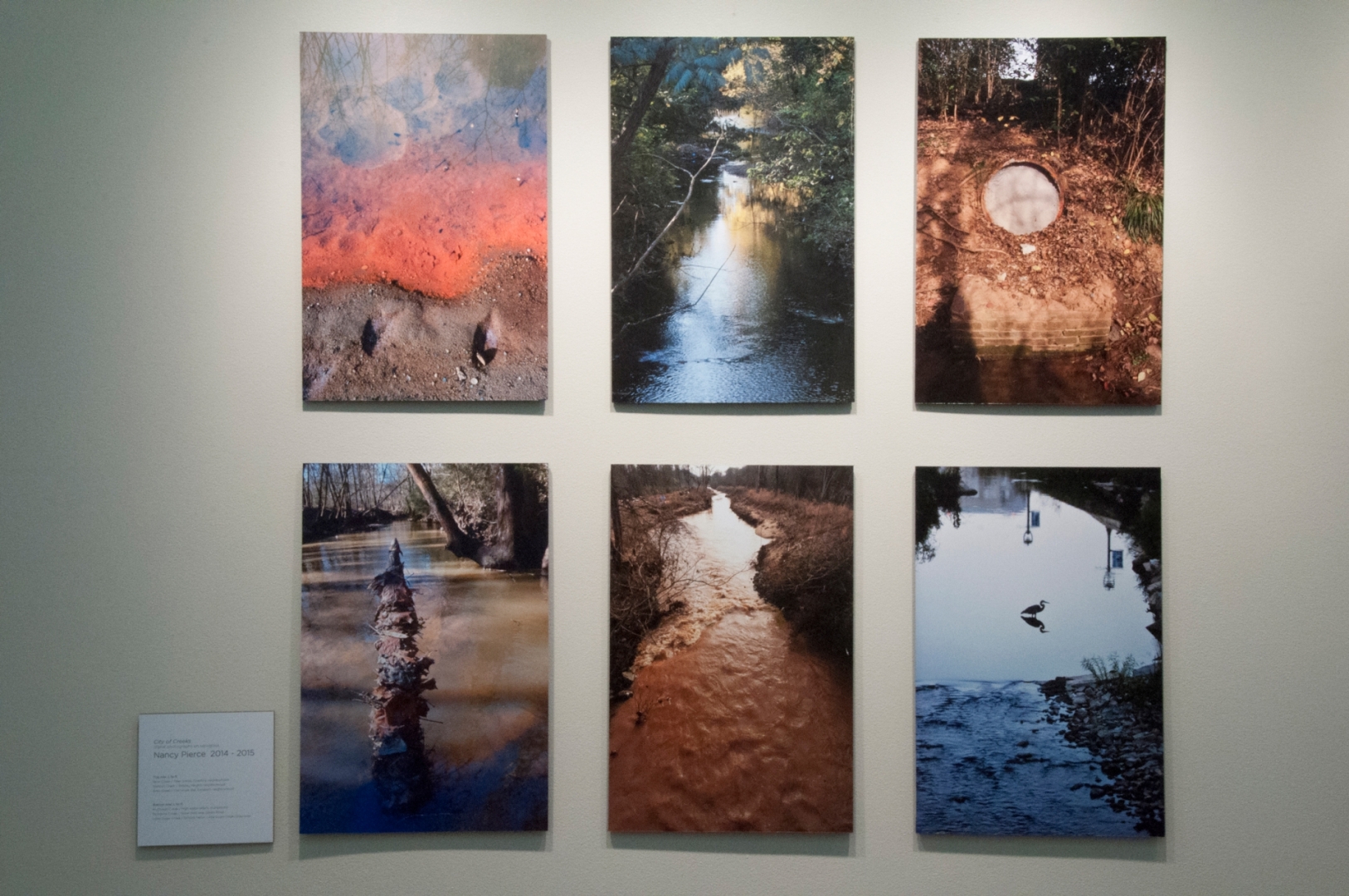 Pierce's photographs became in large part the visual cornerstone of the City of Creeks project and can be seen on the gallery walls and in the front display window of the UNC Charlotte Center City Building. Also filling the front window are some of the more than 17,000 basketballs kayaker Bill Stokes has retrieved from the Catawba River. The basketballs float down the Charlotte creeks that drain into Sugar Creek and then into the river.
Lauren Rosenthal
Lauren Rosenthal's work presents water as both a literal and metaphorical symbol of interconnectedness. Her 12-foot Mecklenburg Creeks Drawing is one of a family of maps of Southern river networks, such as the Haw in North Carolina and the James in Virginia. Created by cutting away layers of "ground," the maps evoke the process by which rivers mark the landscape.
"Water is the thing that connects everything," says Rosenthal. "We can't live without it. We are literally made of it – our bodies are something like 70 percent water. Whatever we dump into our waterways ends up inside of us. There really are no boundaries when it comes to water. We've got to start thinking like water, beyond boundaries, in an interconnected way."
Mecklenburg Creeks Drawing became the inspiration for the online interactive map, Home Basin: Charlotte, created by Rosenthal with Wes Lawing, Tenille Todd and Mary Newsom of the UNC Charlotte Urban Institute. The public is invited to contribute to Home Basin by sharing photos and descriptions of local creeks and their landmarks.
Also in the Projective Eye Gallery is Rosenthal's beautiful river atlas, Political/Hydrological. In this book of maps, state boundaries are determined by watershed divides, proposing a new socio-political structure for the United States.
Marek Ranis
For the past decade, Marek Ranis has created a diverse body of work informed by a global investigation into climate change. As he contemplated creating work for KEEPING WATCH on WATER, he sought a new way to look at the environment – not through the eyes of scientists or ecologists but through the eyes of spiritual leaders. An associate professor of art at UNC Charlotte, Ranis joined with Religious Studies Department lecturer Tina Katsanos to interview 10 local spiritual leaders of different faiths. Those interviews, combined with aerial film footage of an entire water path from tributary to river to ocean, became the video installation Stewardship, on view in the gallery and on Vimeo.
"I think there is a very interesting aspect of ecology, which is how your personal ethics, how your moral obligations control your behavior," Ranis says. "Is it a sin if I drop the garbage or change the oil and drop it into the creek? Is it a sin to pollute the water that I will drink and my family will drink? This is a much more personal, more emotional argument for ecological thinking – it might be, for a large group of people, much more convincing."
Stacy Levy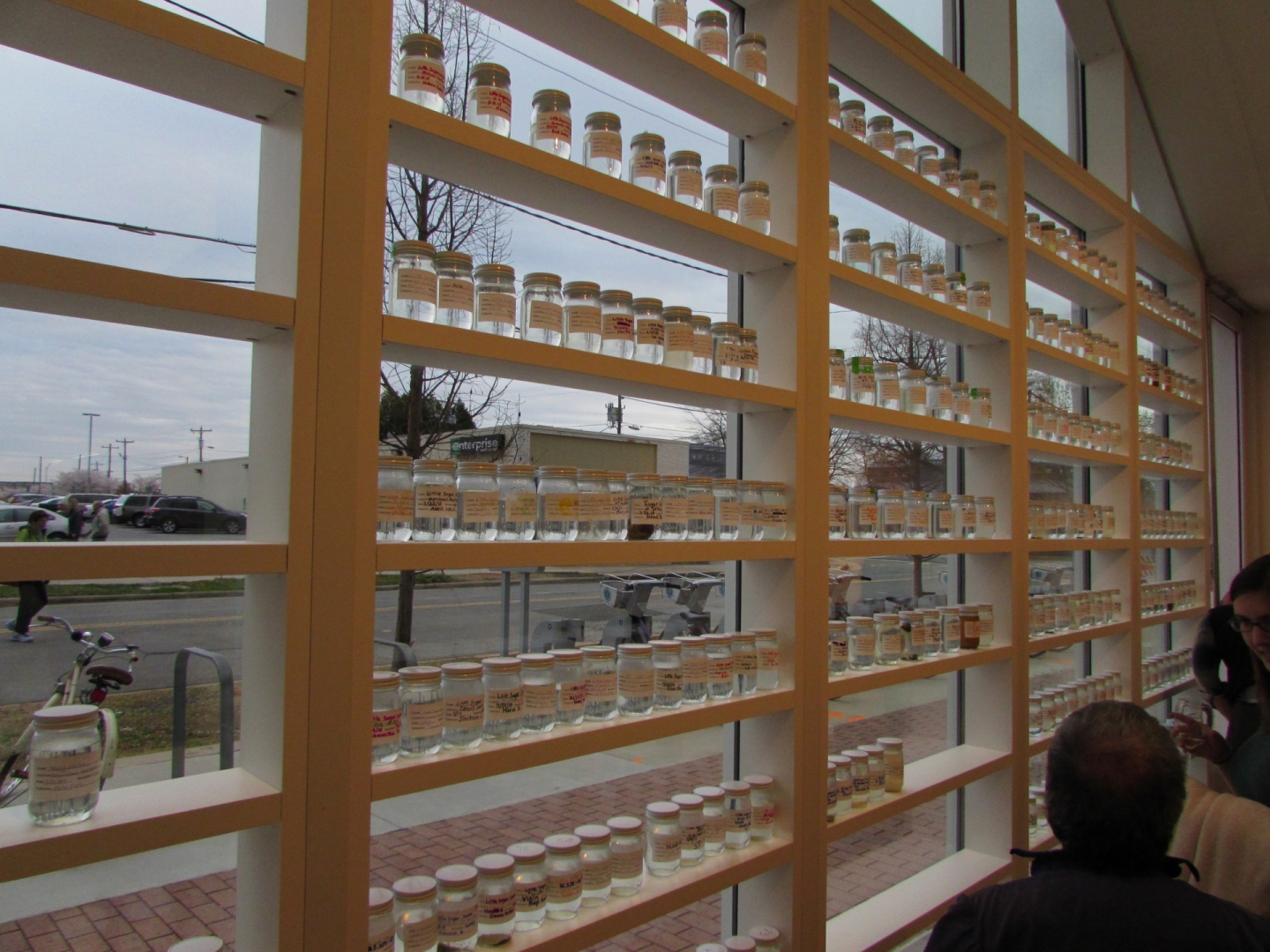 Stacy Levy is a sculptor whose interest in the natural world lies in both art and science. For KEEPING WATCH on WATER, she created two works: Watershed Pantry, in the gallery, and Passage of Rain, an installation in west Charlotte. Watershed Pantry invites the public to collect water from their local creeksheds and bring jars of the water to the gallery to display. Passage of Rain, constructed along a .8-mile stretch in the Revolution Park neighborhood, follows the path of rainwater from street to stream.
"Where does the rain go and how does it connect?" asks Levy. "I'm trying to map on the urban surface the relationship between the rainfall and the sidewalk and the road and the creek. I want to make that a very apparent, visceral connection."
The Projective Eye Gallery is open seven days a week, 9 a.m. to 9 p.m. at UNC Charlotte Center City at East Ninth and North Brevard streets, Charlotte.